10 x CLIMATE POSITIVE
Award-winning shape designed by World SUP Surf champions.
The short compact outline reduces the swing weight, making it easier and faster for you to turn and fit in more critical pockets of the wave without the nose catching.
The thin rails require less effort to turn the board on rail, giving you more control to whip the board around and generate faster speeds to set up for explosive maneuvers. The sharp rail edge at the tails gives you more drive and bite-through turns, making you feel more in control with every maneuver.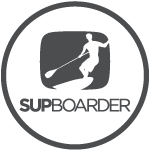 Won Best Performance SUP Surf Shape award 2 years in a row
SUPBoarder Magazine
PERFORMANCE SHAPES FOR SERIOUS RIDERS SEEKING WORLD-CLASS WAVES
DESIGNED BY WORLD CHAMPIONS
Our Pro range has been designed and developed by our World Champion riders Benoit Carpentier and Zane Schweitzer, giving you the best high-performance shape to rip like a pro in the waves.
AWARD WINNING SHAPE
Best Performance SUP Surf Shape – Awarded by SUPBoarder Magazine
"This is a board that will suit a more experienced surfer. It may be more technical to use and need certain waves to work best in but in the right conditions this board will give the rider a top level of performance…"
SHORT OUTLINE
Allows the board to pivot without the nose catching through the turns and can fit in tighter pockets in the waves.
THIN RAILS
Require less foot pressure, making it more sensitive and reactive, carving rail turns and have greater control down the wave face. The low volume rails allow the board to sit slightly lower in the water aiding stability.
SLIGHT DOMED DECK
Distributes the volume in the center to provide enough float, thinning at the rail for more control and bite.
SHARP RAIL EDGE
Extra control and quick turning on the rail.
KNIFY RAILS
To avoid catching whitewash and improved control.
CONSTANT ROCKER CURVE
For smooth and fast performance.
CURVED NOSE ROCKER
Allows dropping into steep waves without the nose-diving.
CURVED TAIL KICK
Offers fast reactive turning and projection to go vertical.
BOTTOM SHAPE
Single concave starting at the nose provides lift and speed. Double concave from the mid-section to in-front of the fins directs the water flow around the fins, providing control.
SWALLOW TAIL
Helps generate more speed and more bite to turn in tighter pockets of the wave.
FIN SET UP
• Quad and thruster set up options available to suit different riding styles and conditions.
• Fins are positioned closer to the rails for a quick and sharp response when turning.
NEW

SIDE FIN BOXES
Blue Carbon Pro comes with FCSII side fin boxes and Limited Series comes with normal side fin boxes.
V SHAPE BETWEEN FINS
V shape bottom between fins gives sensitive rail-to-rail transitions.
NEW

SELF-VENTILATING VALVE
A self-ventilating air valve is available on the board. This valve is self-ventilating so, it should not be touched or removed – otherwise, you are at risk of damaging the valve system.
NEW

SIDE FIN BOXES
Blue Carbon Pro comes with FCSII side fin boxes and Limited Series comes with normal side fin boxes.
Constructions
Swipe over the board to see bottom view
LIGHTEST AND STRONGEST
• Based on the world-proven and award-winning Carbon Sandwich construction, the Blue Carbon Pro features a full PVC wrap and the lightest 100g biaxial carbon fiber in the market.
• Highest grade 100g biax carbon wraps the full deck, rail and bottom.
• Thin high-density PVC wraps the entire board with an extra-strong PET standing reinforcement reduces resin uptake and increases the overall strength.
• The sensational lightweight increases carving ability and acceleration.
TIMELESS LOOK, SOLID PERFORMANCE
• Twin T-stringers made from glass fibre are positioned on the deck and bottom of the board close to the rail, providing a massive increase in the overall strength against total breakage in the surf.
• An additional wide layer of 200g glass wraps the rails for higher strength against paddle impact and further reinforces the overall strength against buckling.
• The deck features reinforced biaxial glass and Australian pine, to resist heel dents and impact from the standing area.
• The nose and tail are wrapped in multiple layers of glass fiber for further strength on these impact zones.
9'0″ x 30″ / 157L
Length: 9'0" / 274 cm
Width: 30" / 76 cm
The 9'0" is the biggest board in the range and the first pro design to go as wide as 30", designed for riders that want extra stability and float. The length works as a gun-style board in bigger surf, generating faster down-the-line speed.
Available constructions:
• Blue Carbon Pro
• Limited Series
8'7″ x 29.5″ / 135L
Length: 8'7" / 262 cm
Width: 29.5" / 75 cm
The 8'7" doesn't feel like the second biggest board in the range, in fact far from it. Yes, it has 135L to float a rider up to 110kg, but the performance is unmatched for a board of its size.
Available constructions:
• Blue Carbon Pro
• Limited Series
8'0″ x 29″ / 121L
Length: 8'0" / 244 cm
Width: 29" / 74 cm
The 8'0" packs a surprising amount of volume for its size, making it a very viable option for riders that might normally be intimidated by going so short. The domed deck holds the float and stability, thinning out at the rails to allow for responsive foot pressure when turning without making the board feel corky.
Available constructions:
• Blue Carbon Pro
• Limited Series
7'7″ x 28″ / 107L
Length: 7'7" / 231 cm
Width: 28" / 71 cm
This board replaces both the 7'10" x 28" and 29", and yet despite being shorter, it has 5 liters more float for riders up to 85kg. The thin and sharp rails provide so much speed down the line that it makes it easy to set up for explosive maneuvers.
Available construction:
• Blue Carbon Pro
• Limited Series
7'2″ x 26.75″ / 87L
Length: 7'2" / 218 cm
Width: 26.75" / 68 cm
This board replaces 2 sizes; the 7'7" x 26.75" and 7'2" x 25.5", sitting in between at 87L, it is suited for riders up to 80kg. The rail thickness is ultra-thin to enable long and sharp carving turns. The short outline makes it fit in the tightest pockets and reduces the nose from catching during the most critical maneuvers.
Available construction:
• Blue Carbon Pro
• Limited Series
6'8″ x 24″ / 76L
Length: 6'8" / 203 cm
Width: 24" / 24 cm
The 6'8" was designed and tested by ISA World SUP Surf Champion's Benoit Carpentier and Zane Kekoa Schweitzer. Designed to win, all other sizes are scaled versions of this board, so any rider using a 2022 Pro can trust they share the same design and performance from the highest performing athletes in the world.
Available construction:
• Blue Carbon Pro
• Limited Series
← Scroll sideways for more sizes →
Model
9'0" x 30"
8'7" x 29.5"
8'0" x 29"
7'7" x 28"
7'2" x 26.75"
6'8" x 24"
Rider Weight
80-120 kg
70-110 kg
65-95 kg
60-85 kg
55-80 kg
50-75 kg
Length
9'0" / 274.3 cm
8'7" / 261.6 cm
8'0" / 243.8 cm
7'7" / 231.1 cm
7'2" / 218.4 cm
6'8" / 203.2 cm

Width
30" / 76.2 cm
29.5" / 74.9 cm
29" / 73.7 cm
28" / 71.1 cm
26.75" / 67.9 cm
24" / 61 cm
Thickness
5.2" / 13.2 cm
4.7" / 11.9 cm
4.6" / 11.7 cm
4.5" / 11.4 cm
4.1" / 10.4 cm
4.2" / 10.6 cm
Tail Width
18.1" / 46 cm
18.3" / 46.5 cm
18.5" / 47 cm
18.1" / 46 cm
18.0" / 45.7 cm
16.6" / 42.2 cm
Volume
157 L
135 L
121 L
107 L
87 L
76 L
Fin Set Up
Thruster/Quad
Thruster/Quad
Thruster/Quad
Thruster/Quad
Thruster/Quad
Thruster/Quad
Fins
Center: 140
Side: 4.5"
Center: 140
Side: 4.5"
Center: 120
Side: 4.5"
Center: 120
Side: 4.5"
Center: 120
Side: 4.5"
Center: 120
Side: 4.5"
Weight
BLUE CARBON PRO: 7.8 kg (est)
LIMITED SERIES: 9.7 kg (est)
BLUE CARBON PRO: 7.0 kg (est)
LIMITED SERIES: 8.9 kg (est)
BLUE CARBON PRO: 6.6 kg (est)
LIMITED SERIES: 8.2 kg (est)
BLUE CARBON PRO: 6.2 kg (est)
LIMITED SERIES: 7.5 kg (est)
BLUE CARBON PRO: 5.4 kg (est)
LIMITED SERIES: 6.9 kg (est)
BLUE CARBON PRO: 4.7 kg (est)
LIMITED SERIES: 6.3 kg (est)
Board weight tolerance
Blue Carbon Pro +/- 5% , Limited Series +/- 6%
The Pro has an average carbon footprint of 86 kg per board. More detail about the Pro's carbon footprint Click Here >
The Pro has an average plastic content of 5.3 kg per board. More detail about the Pro's plastic content Click Here >